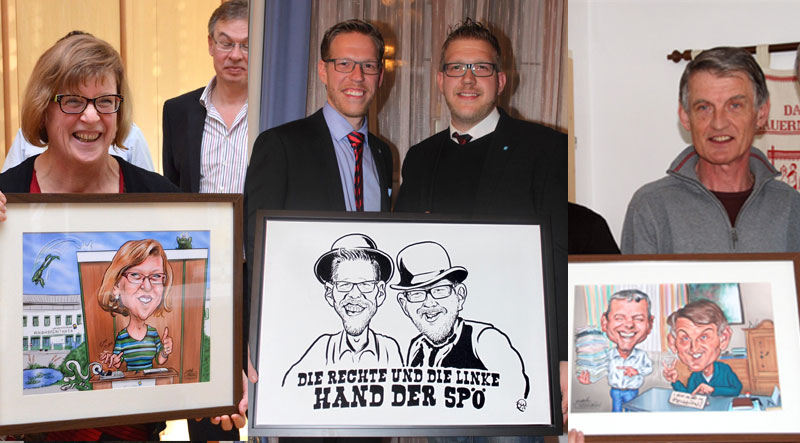 Allready drawn for:
Microsoft, Danfoss, Samariterbund, asfinag, Kraft Foods, Palfinger, Lagerhaus, Volksbank, Helvetia, Raiffeisen, PORR, Wiener Linien, Voest Alpine, BankAustria, BMW, ÖFB, Ueberreuter, Brenner&Company, Sparkasse Horn, good grape, goldbach media, FSG Salzburg, OÖV, Erste Bank WKNÖ, Ökologie Institut, GEO, Meth Media, Erste Bank, TEG, Volksbank, Lenovo, K47, Lohberger, eresnet, Hinteregger, Burson Marsteller, GEFCO, ringo, buero wien, arctic cat, Andi Lee Lang, MDElektronik, VA Tech, ELIN, Cineplex, Dr. Urlicic, Hagentaler, ekazent, AKP, Volvo Trucks, Europ Assistance, novartis, ARA, The Boston Consultig Group GmbH, KPMG, lots of private commissions...

... and many others!
That´s what happy customers had to say:

"Thank you!! The Cartoon is perfect! I´m really looking forward to giving this wunderful present! Many thanks, Susanne"
"Hello mr. Weidenauer, everything worked out fine. We are all totaly excited about your work! You really made an awsome picture! I´m gonna tell everybody I know about you and your amazing work! Thank you for your effort! Many thanks, Mario Zoller"
"Dear Bernd!
I am speechless: it is absolutely AMAZING! Also the presentee was so happy with the picture! Thank you and I am sure we will have a next request soon!"
Angela Jaksch

"The cartoon just arrived and everybody is loving it! Great job again, thank you for your fast and perfect work!"
Harald Böhaker, Palfinger
"Dear Mr. Weidenauer! Your Cartoons are outstanding! Especially the one of my son, which you did form a photograph that i emailed you is so good. The painting resembles the likeness of him even more than the photograph could ever do! Many thanks again for everything!
Greetings, Evelyn Haunschmied!"