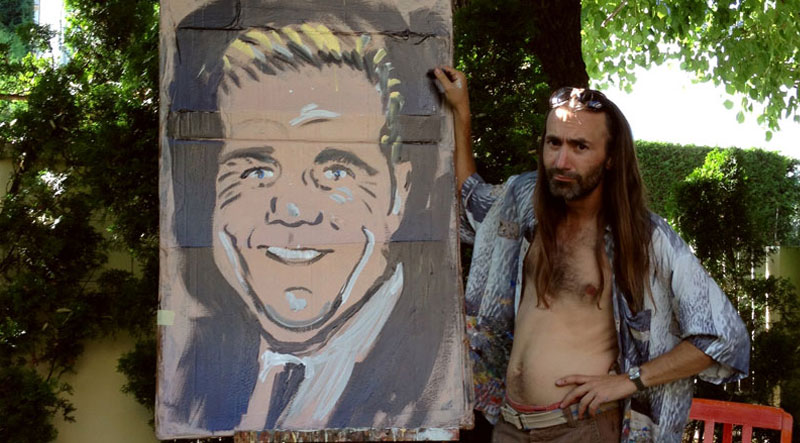 Stil not painted for:
Apple, Samsung, Microsoft, Danfoss, Samariterbund, asfinag, Kraft Foods, Palfinger, Lagerhaus, Volksbank, Helvetia, Raiffeisen, PORR, Wiener Linien, Voest Alpine, BankAustria, BMW, ÖFB, Ueberreuter, Brenner&Company, Sparkasse Horn, good grape, goldbach media, FSG Salzburg, OÖV, Erste Bank WKNÖ, Ökologie Institut, GEO, Meth Media, Erste Bank, TEG
... and many more.
That´s what happy customers will say:

"Hello Willi,
thank you for your wonderful appearance in the Hofburg! You fitted perfectly in the location with your art - especially because you didn´t fit like all the others! I was very happy having you at the event - it was one of my personal highlight. I am sure, we will meet again for the upcomming event.
Take care, ´til then"
"Dear Bernd,
since we have been booking you as a live-caricaturist for several times now, we thought, we should try something new. And it was perfect as always! I really love your work as a speedpainter - I proudly framed my painting in my office and everybody is recongnizing me at the first glance.
Many thanks again and looking forward to hiring you again soon!"
"I was so glad of having you with us in Salzburg. Everybody of the team was fully excited about your amazing and stunning work. We will soon see you again for our event in Bregenz - so good, that you are with us again!"
"Hi Willi,
as you might have recongnized your work as a speedpainter was very well honored at our party!
I was talking to our guests the other day and the uniqueness of your work was still in focus. Everybody loved his and her pizza-box-portraits - I am so glad you could paint nearly all our guests.
Hope to book you again for our big christmas-party - see you!"